DR Michael Barrett Barrett
Jt Head of School of Business & Soc Sci
Jt Head of School of Business & Soc Sci
Address

E: barrett.michael@itsligo.ie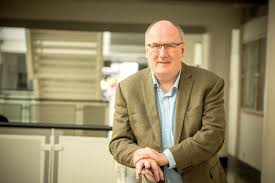 Since joining the Institute in 1999, I have held a number of posts. Initially as lecturer in computer systems, I was appointed head of department of information systems in June 2004. I was seconded from this post to the registrars office where I lead a number of projects including modularisation, centralised timetabling and MIS implementations. I returned to the department of business in September 2013 and I currently am head of the school of business and social sciences.

I was appointed to the governing body in April 2015 for a five year term.
I have completed the DBA in Higher Education Management, graduating from the University of Bath in December 2015.










Student retention, Student experience
 
Year
Publication
(2019)
'Ireland's Yearbook of Education 2018 2019'
Michael Barrett (2019) 'Ireland's Yearbook of Education 2018 2019' In: Brian Mooney (eds). Ireland's Yearbook of Education 2018 2019. Dublin: Education Matters. [Details]
Year
Publication
(2017)
Confederation of Student Services in Ireland,
Michael Barrett (2017) Transitions, Minding the gap in liminal spaces. [Conference Organising Committee Chairperson], Confederation of Student Services in Ireland, Cork, Ireland . [Details]
(2016)
Growing Your vision for Higher Education; 2nd QQI conference on Quality Enhancement,
Michael Barrett., Sandra Harvey-Graham (2016) At this conference the higher education community including staff, student leaders and other stakeholders will explore the theme of ¿Using data for enhancement purposes¿ and have an opportunity to share and hear about innovative initiatives aimed at improving higher education provision in Ireland and the supporting quality structures. [Invited Oral Presentation], Growing Your vision for Higher Education; 2nd QQI conference on Quality Enhancement, Dublin Castle, Dublin , 15-DEC-16 - 15-DEC-16. [Details]
(2015)
New ways to teach and learn for student engagement,
Michael Barrett (2015) The college experience and the impact on student retention: A study in Institute of Technology, Sligo, Ireland. [Oral Presentation], New ways to teach and learn for student engagement, Stanford US . [Details]
(2015)
The College Experience and impact on student retention: A study in Institute of Technology, Sligo, Ireland,,
Michael Barrett (2015) New ways to teach and learn for student engagement Institute for Research in the Social Sciences. [Conference Organising Committee Chairperson], The College Experience and impact on student retention: A study in Institute of Technology, Sligo, Ireland,, Stanford University . [Details]
(2015)
EuroSoTL,
Michael Barrett (2015) The college experience and the impact on student retention: A study in Institute of Technology Sligo. [Invited Oral Presentation], EuroSoTL, UCC, Cork , 14-JUN-15 - 16-JUN-15. [Details]
(2010)
HEANet Networking Conference,
Michael Barrett, Scott Coombs, Brian Mulligan (2010) ICT Tools for Resource and Capacity Planning in Higher Education. [Conference Organising Committee Chairperson], HEANet Networking Conference, Kilkenny, Ireland . [Details]
(2010)
Microsoft SharePoint early adapters conference,
Michael Barrett, Tom O'Connor (2010) An Irish Case Study: Resource Allocation System for IT Sligo. [Conference Organising Committee Chairperson], Microsoft SharePoint early adapters conference, Dublin . [Details]
(2009)
Galway Symposium on Higher Education,
Michael Barrett, Stephanie Donnegan, Etain Kiely (2009) Embedding Generic Competencies in Programme Design and Development Phases. Galway Symposium on Higher Education. [Poster Presentation], Galway Symposium on Higher Education, Galway . [Details]
(2013)
Transitions The Institute of Technology Experience & Perspective Conference,
Michael Barrett (2013) One size does not fit all: A targeted approach to student retention interventions. [Oral Presentation], Transitions The Institute of Technology Experience & Perspective Conference, Dublin . [Details]
(2010)
HEA National Networking Conference,
Michael Barrett, Brian Mulligan, Scott Coombs (2010) ICT Tools for Resource & Capacity Planning in Higher Education. [Conference Organising Committee Chairperson], HEA National Networking Conference, Kilkenny, Ireland . [Details]
(2010)
Microsoft SharePoint and Office 2010,
Michael Barrett, Tom O'Connor (2010) Irish Case Study: SharePoint 2010 Early Adopter¿s Version 1 Deliver Resource Allocation Management System for IT Sligo. [Conference Organising Committee Chairperson], Microsoft SharePoint and Office 2010, Dublin . [Details]
(2009)
Ed Tech,
Michael Barrett, Etain Kiely (2009) Using Module Manager Technology to Promote Collaboration in Programme and Module Develo. [Conference Organising Committee Chairperson], Ed Tech, Dublin . [Details]
(2009)
Galway Symposium on Higher Education,
Michael Barrett, Etain Kiely, Stephanie Donnegan (2009) Embedding Generic Competencies in Programme Design and Development Phases. [Poster Presentation], Galway Symposium on Higher Education, Galway . [Details]
(2009)
ESAI,
Michael Barrett, Etain Kiely (2009) Responding to changing educational practices and policy. [Conference Organising Committee Chairperson], ESAI, Kilkenny, Ireland . [Details]
Year
Publication
(2019)
INAP 2019
Barrett M, Eustace J, Magner S, (2019) A review of the new apprenticeship governance model in Ireland from higher and further education INAP 2019 [Details]
(2017)
INAP 2017
Michael Barrett (ITS), James Eustace (SOLAS), Sandra Harvey-Graham (III), , Breda McNally (SOLAS), Vivienne Patterson (HEA). (2017) The Interface between Policy and Practice; Lessons learned from the development and implementation of new apprenticeships in Ireland using the Insurance Practice apprenticeship as a single case and using the European framework to guide this study INAP 2017 Washington, USA, , pp.90-93 [Details]
(2017)
INAP
Michael Barrett, Vivienne Patterson, James Eustace, Sandra Harvey Graham (2017) Lesons learned from the implementation of Irelands first degree level apprenticeships using the BA (Honours) in Insurance Practice as a single case and using the European framework to guide this study INAP [Details]
Year
Publication
(2020)
QQI Insights - Quality in Irish Higher Education 2020.
Michael Barrett (2020) QQI Insights - Quality in Irish Higher Education 2020. QQI, Dublin. [Details]
| | Year | Title | Awarding Body |
| --- | --- | --- | --- |
| | 2002 | MSc Management of Operations | Dublin City University |
| | 2015 | Doctor of Business Administration (DBA) | University of Bath |
| | 1985 | Qualified Electrician | AnCO (ESB Sligo District) |
| | 1999 | BSc. (Hons) Information Technology | Dublin City University |
| | 1997 | Diploma in Information Technology | Dublin City University |
| | 1993 | Higher Certificate in Electronics | Sligo RTC |
Research and Supervision, Marketing, Information Systems, Computer Networking
|   | Graduation | Student Name | University | Degree | Thesis |
| --- | --- | --- | --- | --- | --- |
| | 2005 | Pat Mc Carthy | Institute of Technology, Sligo | MSc Computing and information systems | |
| | 2014 | Martin Gibbons | Institute of Technology, Sligo | MSc Computing and information systems | |