MS Azura Youell
Jt Lecturer
Lecturer, Health & Exercise Science
Health & Nutritional Sciences
B2119
Institute of Technology, Sligo
Ash Lane
F91YW50
Sligo

T: +353 71 930 ext. 5242
E: youell.azura@itsligo.ie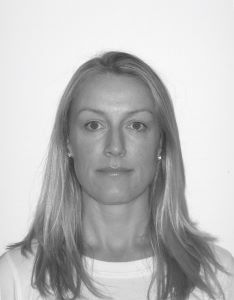 Azura Youell has lectured in the Department of Health & Nutritional Sciences at IT Sligo since 2004 in Health & Exercise Sciences having moved from a lecturing role in the area of Exercise Physiology at Waterford Institute of Technology. She has lectured at Levels 6, 7, 8 and 9 and supervised both undergraduate and postgraduate research. She has been involved in significant course development within the department, and initiated several information management systems as part of her work with Health Science Programmes.

Azura coordinates REPs Ireland (Register of Exercise Professionals) accreditation for the health science programmes', offering students industry-recognised exercise-professional awards imbedded as part of undergraduate courses. Azura also coordinates work placements for year 4 students from the BSc. in Public Health & Health Promotion.
Areas of research interest include:

Physical activity prescription in health & disease for optimal health, well-being & ill-health risk-factor reduction


Determinants of Physical Activity Behaviour


Measuring/Estimating Physical Activity Participation


Exercise on Referral


Impact of Physical Activity Participation on other Health Behaviours


Psychosocial factors determining attitudes towards Physical Activity Uptake, Participation and Adherence/Maintenance.
Year
Publication
(2020)
Science Undergraduate Research Experience (SURE),
McDonnell, E. & Youell A. (2020) An Investigation of the Perceived Health Benefits, Self-Reported Effects on Physical Activity Behaviour and Main Uses of Wearable Fitness Trackers : A Cross-Sectional Study. [Oral Presentation], Science Undergraduate Research Experience (SURE), IT Sligo [Online] . [Details]
(2018)
Annual Research Education Foundation (REF) Conference, SUH,
Youell, A. (2018) The short-term impact of community-based exercise-on-referral, on selected health and fitness indices in people with Neurological Conditions. [Oral Presentation], Annual Research Education Foundation (REF) Conference, SUH, Sligo, ROI . [Details]
(2018)
BACPR Exercise Professionals Group Study Day,
Regan, J., McCallion, M. Youell, A. et al. (2018) Community Based Phase IV Cardiac Rehabilitation: A Mixed Methods Study. [Poster Presentation], BACPR Exercise Professionals Group Study Day, Birmingham, UK . [Details]
(2017)
FSEM (RCSI & RCPI) 14th Annual Conference,
Regan, J., McCallion, M., Youell, A., Collery A. & Moyna, N. (2017) "Community Based Phase IV Cardiac Rehabilitation Programme: Participant Needs, Experiences and Perceived Benefits. [Poster Presentation], FSEM (RCSI & RCPI) 14th Annual Conference, Dublin, ROI . [Details]
(2017)
FSEM (RCSI & RCPI) 14th Annual Conference,
Regan, J., Youell, A., Donlon, E. & Moyna, N. (2017) Effects of Participation in Phase IV Community Based Cardiac Rehabilitation on Selected Fitness Indices - A Pilot Study. [Poster Presentation], FSEM (RCSI & RCPI) 14th Annual Conference, Dublin, ROI . [Details]
(2013)
Annual Research Education Foundation (REF) Conference, SGH,
Stirrat, S, McCallion, M. & Youell, A. (2013) "An Evaluation of the Green Prescription Programme in Co. Donegal". [Poster Presentation], Annual Research Education Foundation (REF) Conference, SGH, Sligo, ROI . [Details]
(2012)
NUIG 16th Annual Summer Health Promotion Conference,
McCallion, M. & Youell, A. (2012) "The Green Prescription Physical Activity Case Study". [Oral Presentation], NUIG 16th Annual Summer Health Promotion Conference, Galway, ROI . [Details]
(2012)
Annual Research Education Foundation (REF) Conference, SGH,
McCallion, M. & Youell, A. (2012) The Green Prescription Physical Activity Case Study". [Oral Presentation], Annual Research Education Foundation (REF) Conference, SGH, Sligo, ROI . [Details]
(2012)
FSEM (RCSI & RCPI) 9th Annual Conference,
McCallion, M. & Youell, A. (2012) "The Green Prescription Physical Activity Case Study". [Poster Presentation], FSEM (RCSI & RCPI) 9th Annual Conference, Dublin, ROI . [Details]
Year
Publication
(2013)
An evaluation of the Green Prescription Study in County Donegal.
Stirrat, S., McCallion, M. & Youell, A. (2013) An evaluation of the Green Prescription Study in County Donegal. Health Service Executive (HSE), Letterkenny. [Details]
Professional Associations
| | Association | Function | From / To |
| --- | --- | --- | --- |
| | Register of Exercise Professionals (REPs) Ireland | Qualified Exercise Professional (FT, PT) | / |
| | Year | Institution | Qualification | Subject |
| --- | --- | --- | --- | --- |
| | 2000 | University of Aberdeen | MSc | Sports Nutrition |
| | 2008 | National University of Ireland Galway | Post Graduate Diploma | Health Promotion |
| | 1999 | University of Limerick | BSc | Sports & Exercise Science |
Exercise & Environmental Physiology

Clinical Exercise Physiology

Exercise Prescription

Health & Exercise Psychology

Sports & Exercise Nutrition



|   | Graduation | Student Name | University | Degree | Thesis |
| --- | --- | --- | --- | --- | --- |
| | 2014 | Ms Siofra Stirrat | Institute of Technology, Sligo | MSc | An Evaluation of the Green Prescription Programme in County Donegal |
|   | Term (ID)) | Title | Link | Subject |
| --- | --- | --- | --- | --- |
| | 202000 | Resistance Training & Programm | 40594 | Resistance Training & Programm |
| | 202000 | Exercise as Medicine | 40624 | Exercise as Medicine |
| | 202000 | Clinical Exercise Prescription | 40649 | Clinical Exercise Prescription |
| | 202000 | HLTH. PSYCH. | 32779 | HLTH. PSYCH. |
| | 202000 | WORK PLACEMENT | 40654 | WORK PLACEMENT |
| | 202000 | Physical Testing & Evaluation | 40564 | Physical Testing & Evaluation |