DR Brian P Mc Cann
Jt Lecturer
Lecturer In Civil Engineering
Civil Engineering & Construction
E0033
School of Engineering & Design
Institute of Technology Sligo
Ash Lane
Sligo

T: 071 9305702
E: mccann.brian@itsligo.ie

Jt Lecturer
Address

E: mccann.brian@itsligo.ie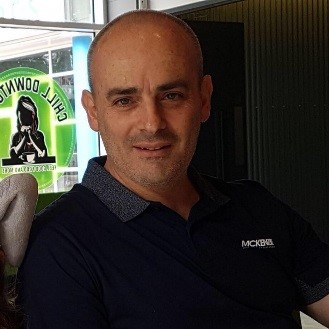 I am an experienced, hard-working and innovative academic, researcher, and leader with 25 years of service to the Institute, community, region and nation, and committed to quality education and engagement with stakeholders, students and colleagues.
I have taken a lead role in the development of accredited full time undergraduate and part-time on-line programmes at Levels 7, 8, 9 and 10, both through taught and research modes. I have been instrumental in course coordination and leadership, mentoring of students and colleagues, development of quality academic policies and procedures, and engagement with industry and community stakeholders.
I have also demonstrated an ability to motivate and manage programme teams and students to achieve high quality outputs. I engage in programme marketing and promote student progression through the development of add-on and transfer programmes and opportunities, including managing RPL evaluation of applications.
I have initiated and managed applied research projects, both collaborative and internally resourced, from Levels 7 to 10, and have disseminated findings through presentations and published papers, reports and workshops. I currently serve on the board of two national research bodies, having previously undertaken review, chairing and editorial responsibilities at conferences in 2016, 2018, 2019 and 2020. In 2020 I was elected as Vice-Chair of the Irish Transport Research Network (ITRN) www.itrn.ie.
I utilise my experience and expertise in environmental engineering, sustainable road and transport planning and design, through active engagement with community, industry and government by means of membership of and participation with representative, state and industry bodies, including Sligo Chamber, Sligo SEC, Atlantic Economic Forum, Northern & Western Regional Assembly, LASNTG, and DTTAS.

Optimisation and performance assessment of wastewater treatment plants.
Sustainable indicators for environmental assessment and benchmarking.
Remote and continuous monitoring of wastewater treatment processes
Sustainable transport planning and policies
Traffic control systems and safety of road networks.
Sustainable transport facility design for cycling and walking.
 
Year
Publication
(2015)
'Basis for the development of sustainable optimisation indicators for activated sludge wastewater treatment plants in the Republic of Ireland'
Gordon, GT,McCann, BP (2015) 'Basis for the development of sustainable optimisation indicators for activated sludge wastewater treatment plants in the Republic of Ireland'. WATER SCIENCE AND TECHNOLOGY, 71 :27-34 [DOI] [Details]
(2015)
'Basis for the Development of Sustainable Optimisation Indicators for Activated Sludge Wastewater Treatment Plants in the Republic of Ireland'
Gordon, G.T. and McCann, B.P. (2015) 'Basis for the Development of Sustainable Optimisation Indicators for Activated Sludge Wastewater Treatment Plants in the Republic of Ireland'. Water Science and Technology, 71 (1):131-138 [DOI] [Details]
(2008)
'Indicators for managing biosolids in Ireland'
Amajirionwu, M,Connaughton, N,McCann, B,Moles, R,Bartlett, J,O'Reaan, B (2008) 'Indicators for managing biosolids in Ireland'. Journal of Environmental Management, 88 :1361-1372 [DOI] [Details]
| | Year | Title | Awarding Body |
| --- | --- | --- | --- |
| | 2018 | Gradaim Comhairle Ardoideachas | Gaelic Athletic Association (GAA) |
Professional Associations
| | Association | Function | From / To |
| --- | --- | --- | --- |
| | Engineers Ireland | Member | / |
| | IWA | Member | / |
| | Year | Institution | Qualification | Subject |
| --- | --- | --- | --- | --- |
| | 1993 | QUB | PhD | Civil Engineering- Wastewater Treatment |
| | 1987 | QUB | BEng | Civil Engineering |
|   | Term (ID)) | Title | Link | Subject |
| --- | --- | --- | --- | --- |
| | 202000 | Transportation Planning | 34240 | Transportation Planning |
| | 202000 | SURVEYING AND ROAD DESIGN | 7794 | SURVEYING AND ROAD DESIGN |
| | 202000 | SITE SURVEYING | 7594 | SITE SURVEYING |
| | 202000 | Transportation Engineering 401 | 32236 | Transportation Engineering 401 |
| | 202000 | Environmental Process Design | 30072 | Environmental Process Design |
| | 202000 | MATHEMATICS | 4115 | MATHEMATICS |
| | 202000 | Environmental Process Design | 30070 | Environmental Process Design |
| | 202000 | STRUCTURAL DESIGN 1 | 6914 | STRUCTURAL DESIGN 1 |
| | 202000 | CHEMISTRY AND MATERIALS | 6760 | CHEMISTRY AND MATERIALS |
| | 202000 | PROJECT | 7764 | PROJECT |
| | 202000 | HYDRAULICS | 12751 | HYDRAULICS |
| | 202000 | STRUCTURAL ANALYSIS | 6152 | STRUCTURAL ANALYSIS |
| | 202000 | HIGHWAY & TRAFFIC ENGINEERING | 7758 | HIGHWAY & TRAFFIC ENGINEERING |
| | 202000 | STRUCTURAL MECHANICS | 6910 | STRUCTURAL MECHANICS |
| | 202000 | HIGHWAY AND TRAFFICE ENG | 14310 | HIGHWAY AND TRAFFICE ENG |
| | 202000 | ENVIRONMENTAL ENGINEERING 1 | 6834 | ENVIRONMENTAL ENGINEERING 1 |
| | 202000 | Highway Engineering 301 | 41658 | Highway Engineering 301 |
| | 202000 | Highway Engineering | 31188 | Highway Engineering |
| | 202000 | Transportation Planning | 34241 | Transportation Planning |
| | 202000 | STRUCTURAL MECHANICS | 6912 | STRUCTURAL MECHANICS |
| | 202000 | MATHEMATICS | 4114 | MATHEMATICS |
| | 202000 | GEOTECHNICAL & HIGHWAY ENGINE | 25896 | GEOTECHNICAL & HIGHWAY ENGINE |
| | 202000 | MATHEMATICS | 12749 | MATHEMATICS |
| | 202000 | Environmental Engineering 201H | 32368 | Environmental Engineering 201H |
| | 202000 | PROJECT | 14316 | PROJECT |
| | 202000 | Traffic Control and Safety | 36734 | Traffic Control and Safety |
| | 202000 | Air Water and Noise Pollution | 30078 | Air Water and Noise Pollution |
| | 202000 | LAND SURVEYING | 17539 | LAND SURVEYING |
| | 202000 | HYDRAULICS | 3515 | HYDRAULICS |
| | 202000 | ENVIRONMENTAL ENG 2 | 7755 | ENVIRONMENTAL ENG 2 |
| | 202000 | MATHEMATICAL MODELLING | 4112 | MATHEMATICAL MODELLING |
| | 202000 | ENVIRONMENTAL ENGINEERING 1 | 14286 | ENVIRONMENTAL ENGINEERING 1 |
| | 202000 | ENVIRONMENTAL ENGINEERING 1 | 6836 | ENVIRONMENTAL ENGINEERING 1 |
| | 202000 | SURVEYING & ROAD DESIGN | 17575 | SURVEYING & ROAD DESIGN |
| | 202000 | CONSTRUCTION LAW | 6854 | CONSTRUCTION LAW |
| | 202000 | Highway Engineering 402H | 32248 | Highway Engineering 402H |
| | 202000 | Interpersonal Transferable Ski | 30158 | Interpersonal Transferable Ski |
| | 202000 | Environmental Eng 301H | 32260 | Environmental Eng 301H |
| | 202000 | HYDRAULICS | 3513 | HYDRAULICS |
| | 202000 | SLUDGE & SOLID WASTES | 6413 | SLUDGE & SOLID WASTES |
| | 202000 | SURVEYING AND ROAD DESIGN | 14280 | SURVEYING AND ROAD DESIGN |
| | 202000 | ENVIRONMENTAL ENGINEERING 2 | 14306 | ENVIRONMENTAL ENGINEERING 2 |
| | 202000 | Road and Transport Scheme Desi | 37183 | Road and Transport Scheme Desi |
| | 202000 | MATHEMATICS 2 | 4118 | MATHEMATICS 2 |
| | 202000 | STRUCTURAL DESIGN 1 | 6916 | STRUCTURAL DESIGN 1 |
| | 202000 | CONSTRUCTION LAW | 14283 | CONSTRUCTION LAW |
| | 202000 | ENVIRONMENTAL ENGINEERING 1 | 14288 | ENVIRONMENTAL ENGINEERING 1 |
| | 202000 | ENVIRONMENTAL ENGINEERING 2 | 14304 | ENVIRONMENTAL ENGINEERING 2 |
| | 202000 | Wastewater Treatment 302 | 30074 | Wastewater Treatment 302 |
| | 202000 | Environmental Engineering 402H | 32244 | Environmental Engineering 402H |
| | 202000 | CHEMISTRY AND MATERIALS | 6758 | CHEMISTRY AND MATERIALS |