DR James Bonsall
Jt Lecturer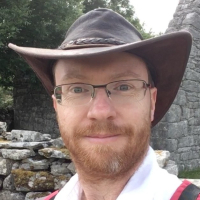 I am an archaeological geophysicist working in both the academic and private commercial sectors. I have specialisms in the use of legacy data; 4D time-lapse assessments; the application of electromagnetic induction for the assessment of archaeological sites within challenging environments and variable geological backgrounds; induced polarisation, upland archaeology; conflict archaeology and archaeological deposits threatened by coastal erosion.
I developed an interest in archaeological geophysics during my BA (King Alfred's College, 2000) and specialised in the world of geophysics with my MSc in Archaeological Prospection (University of Bradford, 2001). I worked for a small number of private sector archaeological and geophysical companies in the UK before moving to Ireland and creating Earthsound Archaeological Geophysics. Between 2010-2014, I carried out PhD research funded by a National Roads Authority Fellowship Programme "A reappraisal of archaeological geophysical surveys on Irish road corridors 2001-2010" (University of Bradford, 2014), which resulted in a number of peer review publications and a procedural guidance document for the NRA (now TII, Transport Infrastructure Ireland) staff on commissioning and procuring of geophysical surveys on infrastructure projects.
I was a director of Earthsound Archaeological Geophysics (2002-2019), the largest private sector company in Ireland dedicated to the investigation of archaeological remains using geophysical techniques. I maintained a high academic profile for the company with a healthy publication record and as an Industrial Partner for PhD research and partner for a variety of academic research and community archaeology projects.
Since 2008 I have acted as a consultant to the Serious Crime Review Team (a cold case investigation unit) of An Garda Siochána and regularly provide them with forensic geophysical surveys and advice.
I Lecture in the Department of Environmental Sciences, Institute of Technology Sligo, Ireland, where I'm responsible for delivering 5 modules in Applied Archaeology at Level 6 (Higher Certificate), Level 7 (BSc degree) and Level 8 (BSc Honours degree), and supervising postgraduate research. I teach modules in both practical and theoretical Archaeological Geophysics, GIS and Geoarchaeology. I'm a member of the Centre for Environmental Research Innovation and Sustainability (CERIS) research cluster at IT Sligo. I'm currently supervising a PhD candidate assessing Napoleonic-era Signal Defensible Guardhouses in Connacht and Ulster. I'm a geophysicist for the ERC-funded Lost Frontiers Project, collecting geophysical data and sediments to map palaeolandscapes beneath the Irish Sea.
I convened the first International Weather Beaten Archaeology Conference (2015) and the 13th International Conference on Archaeological Prospection (2019) at IT Sligo. I'm currently writing papers on:
Mass pits on the Battlefield of Vinegar Hill
Geoarchaeological analysis of Neolithic cave sediments in the Irish uplands
Community Archaeology in County Mayo
The mapping of palaeolandscapes beneath the Irish Sea via seismic and borehole data