Dr Konrad Mulrennan
Jt Assistant Lecturer
Jt Assistant Lecturer
Address

E: Mulrennan.Konrad@itsligo.ie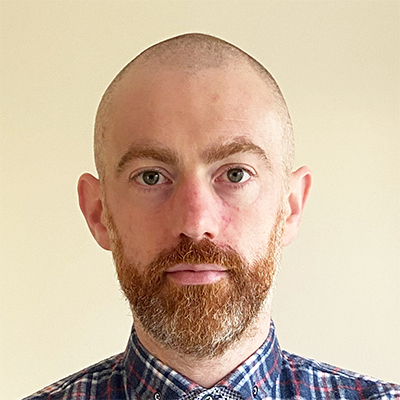 I am a lecturer in the Department of Mechatronic Engineering and the programme coordinator for the BEng (Hons) in Mechatronic Engineering online programme.

I have type 1 diabetes and am passionate about the research, development and innovation of digital health technologies to ease the burden and improve outcomes for persons managing chronic diseases. My other research interests include the applications of machine learning/artificial intelligence to manufacturing, energy, and teaching and learning.

I am the Associate Director for Digital Health Technologies in the University's Health and Biomedical (HEAL) Research Centre. I am also a Principal Investigator in both the Precision Engineering, Materials and Manufacturing (PEM) Research Centre and the Centre for Mathematical Modelling and Intelligent Systems for Health and Environment (MISHE).
Digital health technologies: assisted disease self-management, personalised disease management pattern recognition, recommender systems.
Biomedical signal processing and systems: continuous glucose monitoring real-time analytics and predictive modelling, closed-loop artificial pancreas system.
Intelligent soft sensors: prediction of material properties in manufacturing processes.
Computational models: disease risk stratification, disease trajectory, personalised medicine, energy demand forecasting.
Learning analytics: adaptive learning, digital tools for inclusion and engagement.
| | Project | Role | Description | Start Date | End Date |
| --- | --- | --- | --- | --- | --- |
| | Assisted Self-Management of Type 1 Diabetes using Machine Learning and Artificial Intelligence | Supervisor | CUA Bursary 2020 | 01-FEB-21 | 31-JAN-25 |
| | A Machine Learning Approach to Complications Identification and Early Warning System for Type 1 Diabetes Mellitus Patients | Supervisor | IT Sligo President's Bursary 2020 | 01-FEB-21 | 31-JAN-25 |
| | The Northwest Centre for Advanced Manufacturing (NWCAM) | Postdoctoral Researcher (18-19)/Principal Investigator (19-22) | EU Interreg VA Programme | 29-JAN-18 | 29-APR-22 |
| | Bio-PolyTec | PhD Student | EU Seventh Framework Programme (FP7) | 01-DEC-13 | 30-NOV-15 |
 
Year
Publication
(2022)
'NIR-Based Intelligent Sensing of Product Yield Stress for High-Value Bioresorbable Polymer Processing'
Mulrennan, Konrad and Munir, Nimra and Creedon, Leo and Donovan, John and Lyons, John G. and McAfee, Marion (2022) 'NIR-Based Intelligent Sensing of Product Yield Stress for High-Value Bioresorbable Polymer Processing'. Sensors, 22 (8) [DOI] [Details]
(2022)
'A constraint programming model for makespan minimisation in batch manufacturing pharmaceutical facilities'
Mohamed Awad and Konrad Mulrennan and John Donovan and Russell Macpherson and David Tormey (2022) 'A constraint programming model for makespan minimisation in batch manufacturing pharmaceutical facilities'. Computers & Chemical Engineering, 156 [DOI] [Details]
(2020)
'Modelling the electrical energy profile of a batch manufacturing pharmaceutical facility'
Mulrennan, Konrad and Awad, Mohamed and Donovan, John and Macpherson, Russell and Tormey, David (2020) 'Modelling the electrical energy profile of a batch manufacturing pharmaceutical facility'. International Journal of Data Science and Analytics, 10 (3):285-300 [DOI] [Details]
(2018)
'A soft sensor for prediction of mechanical properties of extruded PLA sheet using an instrumented slit die and machine learning algorithms'
Mulrennan, Konrad and Donovan, John and Creedon, Leo and Rogers, Ian and Lyons, John G. and McAfee, Marion (2018) 'A soft sensor for prediction of mechanical properties of extruded PLA sheet using an instrumented slit die and machine learning algorithms'. Polymer Testing, 69 :462-469 [DOI] [Details]
Year
Publication
(2021)
32nd Irish Signals and Systems Conference (ISSC)
Munir, Nimra and Mulrennan, Konrad and McAfee, Marion (2021) Comparison of data summarization and feature selection techniques for in-process spectral data 32nd Irish Signals and Systems Conference (ISSC) , pp.1-7 [Details]
(2019)
The 17th International Conference on Manufacturing Research (ICMR 2019)
Mulrennan, Konrad and Awad, Mohamed and Donovan, John (2019) Identifying Highly Variable and Energy Intensive Batch Manufacturing Processes Using Statistical Methodologies The 17th International Conference on Manufacturing Research (ICMR 2019) , pp.495-500 [Details]
(2019)
The 17th International Conference on Manufacturing Research (ICMR 2019)
Dave, Foram and Mulrennan, Konrad and Sherlock, Richard and Tormey, David (2019) Bulk Modification of Poly ( lactic Acid ) by CO2 Laser Radiations The 17th International Conference on Manufacturing Research (ICMR 2019) , pp.370-375 [Details]
(2019)
The 17th International Conference on Manufacturing Research (ICMR 2019)
Awad, Mohamed and Mulrennan, Konrad and Donovan, John (2019) The Identification of Utility Constraints in a Batch Manufacturing Facility The 17th International Conference on Manufacturing Research (ICMR 2019) , pp.479-484 [Details]
(2018)
International Manufacturing Conference 35
Mulrennan, Konrad and Donovan, John and Macpherson, Russell and Tormey, David (2018) Developing a plant electrical energy model from historic batch scheduling data International Manufacturing Conference 35 Dublin, [Details]
(2018)
2018 IEEE 5th International Conference on Data Science and Advanced Analytics (DSAA)
Mulrennan, Konrad and Donovan, John and Tormey, David and Macpherson, Russell (2018) A Data Science Approach to Modelling a Manufacturing Facility's Electrical Energy Profile from Plant Production Data 2018 IEEE 5th International Conference on Data Science and Advanced Analytics (DSAA) , pp.387-391 [Details]
(2017)
Polymer Processing Society (PPS) 33
Mulrennan, Konrad and McAfee, Marion and Donovan, John and Creedon, Leo and Buchanan, Fraser and Billham, Mark (2017) Degradation Profiles of Polylactide - A Comparative Study of Machine Learning Soft Sensors used for Inline Prediction Polymer Processing Society (PPS) 33 Cancun, [Details]
(2017)
International Manufacturing Conference 34
Mulrennan, Konrad and McAfee, Marion and Donovan, John and Creedon, Leo and Buchanan, Fraser and Billham, Mark (2017) Using machine learning as a Quality Assurance tool for a polymer extrusion process International Manufacturing Conference 34 Sligo, [Details]
(2017)
ANTEC 17
Mulrennan, Konrad and McAfee, Marion and Donovan, John and Creedon, Leo and Buchanan, Fraser and Billham, Mark (2017) Developing a soft sensor Random Forest model for the inline product characterization of Polylactide ( PLA ) in a twin screw melt extrusion process ANTEC 17 Anaheim, , pp.1024-1031 [Details]
Professional Associations
| | Association | Function | From / To |
| --- | --- | --- | --- |
| | IEEE | Member | 01-JAN-18 / 31-DEC-22 |
| | Year | Institution | Qualification | Subject |
| --- | --- | --- | --- | --- |
| | 2019 | Institute of Technology Sligo | PhD | Soft Sensor Modelling for the inline characterisation of Polylactide (PLA)in a twin screw extrusion process |
| | 2015 | Dublin Institute of Technology | Post Graduate Certificate | Academic Writing and Publishing |
| | 2014 | Institute of Technology Sligo | Post Graduate Certificate | Data Handling and Analysis |
| | 2013 | Institute of Technology Sligo | B.Eng (Hons) Mechatronics | Mechatronics |
| | 2010 | FÁS | Certificate | Electrical |