DR Marion Dowd
Jt Lecturer

Environmental Science
Ash Lane
Sligo

T: 0719155255
F: 719155255
M: 719155255
E: dowd.marion@itsligo.ie

Lecturer
Address

E: Dowd.Marion@itsligo.ie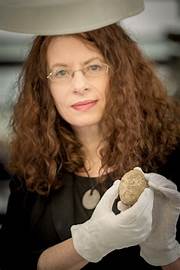 Marion Dowd is a Lecturer in Prehistoric Archaeology at the School of Science, I.T. Sligo since 2005. Prior to this she was a part-time lecturer in the Department of Archaeology at UCC, and she worked for several years with Eachtra Archaeological Projects in Kerry and Cork.

Marion's research focuses on the multiple ways in which caves were adapted, utilised and perceived over the entire duration of human occupation of Ireland, from the Early Mesolithic through to the present day. She is interested in how these dark silent underground landscapes affected people, and the types of activities they attracted. While concerned primarily with the archaeological evidence, she believes in a multi-disciplinary approach and draws on folklore, history, early literary sources and ethnography to provide a more holistic and nuanced understanding of caves.

Her MA (UCC, 1997) and PhD (UCC, 2004) involved the first indepth archaeological analysis of Ireland's caves. Since then she has published and lectured widely on the subject, most notably her book 'The Archaeology of Caves in Ireland' published by Oxbow Books in 2015. It won the Tratman Award in 2015 and the Current Archaeology 'Book of the Year 2016' award. Edited books include 'The Archaeology of Darkness', co-edited with Robert Hensey (Oxbow Books, 2016) and 'Underground Archaeology: Studies on Human Bones and Artefacts from Ireland's Caves' (Oxbow Books, 2016).

She has over 20 years excavation experience on sites from all archaeological periods, and has been a licensed archaeologist since 2001. She has directed excavations in Glencurran Cave and Moneen Cave ¿ both in the Burren, Co. Clare ¿ sites with Bronze Age ritual activities as well as medieval horizons. "Archaeological excavations in Moneen Cave, the Burren, Co. Clare: insights into Bronze Age and post-medieval life in the west of Ireland" (Archaeopress, 2016) is her first excavation monograph, and she has published numerous excavations as journal papers. Other sites she directed include Dunmore Cave, Co. Kilkenny (early medieval human remains) and Knocknarea Cave K, Co. Sligo (Neolithic excarnation site).

During her career she has received funding to pursue research on Irish caves from the Irish Research Council; the Royal Irish Academy; the National Monuments Service; the Heritage Council; and IT Sligo.

She is a full member of the Institute of Archaeologists of Ireland (IAI), the Speleological Union of Ireland (SUI), and the Irish Quaternary Association (IQUA)




I am interested in:
- cave archaeology, specifically Irish cave archaeology
- the interplay between folklore and archaeology
- women in archaeology
- the Irish Palaeolithic
- ritual activities in caves
Year
Publication
(2016)
The archaeology of darkness.
(2016) The archaeology of darkness. Oxford: Oxbow Books. [Details]
(2015)
The archaeology of caves in Ireland.
Marion Dowd (2015) The archaeology of caves in Ireland. Oxford: Oxbow. [Details]
 
Year
Publication
(2015)
'In search of darkness: cave use in Late Bronze Age Ireland'
Marion Dowd (2015) 'In search of darkness: cave use in Late Bronze Age Ireland' In: Darkness: archaeological, historical and contemporary perspectives. Editors: M. Dowd and R. Hensey. Oxford: Oxbow. [Details]
(2013)
'The archaeology and mythology of the Keash Caves, Co. Sligo'
Marion Dowd (2013) 'The archaeology and mythology of the Keash Caves, Co. Sligo' In: Dedicated to Sligo: thirty-four essays on Sligo's past. Editor: M. A. Timoney. Sligo: Publishing Sligo's Past. [Details]
(2010)
'Beards: an archaeological and historical overview'
Marion Dowd (2010) 'Beards: an archaeological and historical overview' In: A glorious gallimaufry: a collection of interesting things in honour of Nick Maxwell. Editors: G. Cooney, K. M. Davies and U. Mac Conville. Dublin: Wordwell. [Details]
(2009)
'Caves'
Marion Dowd (2009) 'Caves' In: Archaeological Inventory of County Cork. Volume 5. Edited by S. Ronan, U. Egan and E. Byrne. Dublin: Government Stationery Office. [Details]
(2009)
'Middle and Late Bronze Age funerary and ritual activity at Glencurran Cave, Co. Clare'
Marion Dowd (2009) 'Middle and Late Bronze Age funerary and ritual activity at Glencurran Cave, Co. Clare' In: Bann flakes to Bushmills: papers in honour of Peter C. Woodman. Editors: N. Finlay, S. McCartan and C. Wickham Jones. Oxford: Oxbow. [Details]
(2005)
'Caves'
Marion Dowd (2005) 'Caves' In: Archaeological inventory of County Sligo. Volume 1: South Sligo. Edited by U. Egan, E. Byrne, M. Sleeman, S. Ronan and C. Murphy. Dublin: Government Stationery Office. [Details]
Professional Associations
| | Association | Function | From / To |
| --- | --- | --- | --- |
| | Speleological Union of Ireland | Member | / |
| | Institute of Archaeologists of Ireland | Member | / |
| | Year | Institution | Qualification | Subject |
| --- | --- | --- | --- | --- |
| | 1997 | UCC | M.A. | Archaeology |
| | 2004 | UCC | PhD | Archaeology |
| | 1995 | UCC | BA (Hons.) | Archaeology and Léann Dúchais |
Over the past ten years I have taught a variety of modules focussed on prehistoric Ireland and Europe. I now teach the introductory 1st Year module, Archaeology of Ireland (ARCH06028), which provides an overview of Irish archaeology over the past 10,000 years. I also teach Learning to Learn (ARCH06031) which focusses on academic writing, research and referencing, public speaking and study skills - skills that are required for the duration of your course. My core modules are Mesolithic Ireland and Europe (ARCH06032) and Iron Age Ireland and Europe (ARCH07022). I am especially interested in 'problem' areas in the archaeological record, and apparent gaps in our understanding of particular periods.

I use our unique teaching collection of replica artefacts, as well as PowerPoint presentations to enhance my classes, and utilise the results of my own excavations, research and experience in commercial archaeology in my teaching.

In previous years I designed and taught the following modules: Public Archaeology, Archaeology of Death, Neolithic Ireland and Europe, Bronze Age Ireland and Europe and Early Medieval Ireland.
|   | Term (ID)) | Title | Link | Subject |
| --- | --- | --- | --- | --- |
| | 202000 | Post-excavation analysis | 43018 | Post-excavation analysis |
| | 202000 | Palaeolithic and Mesolithic Ir | 33423 | Palaeolithic and Mesolithic Ir |
| | 202000 | ARCHAEOLOGY OF IRELAND | 22174 | ARCHAEOLOGY OF IRELAND |
| | 202000 | Archaeology of Ireland | 33403 | Archaeology of Ireland |
| | 202000 | IRON AGE IRELAND AND EUROPE | 22310 | IRON AGE IRELAND AND EUROPE |
| | 202000 | Iron Age Ireland and Europe | 33503 | Iron Age Ireland and Europe |
| | 202000 | NEOLITHIC IRELAND AND EUROPE | 22254 | NEOLITHIC IRELAND AND EUROPE |
| | 202000 | LEARNING TO LEARN | 33407 | LEARNING TO LEARN |
| | 202000 | THE ARCHAEOLOGY OF DEATH | 22298 | THE ARCHAEOLOGY OF DEATH |
| | 202000 | MESOLITHIC IRELAND AND EUROPE | 22226 | MESOLITHIC IRELAND AND EUROPE |
| | 202000 | PUBLIC ARCHAEOLOGY | 22326 | PUBLIC ARCHAEOLOGY |
| | 202000 | BRONZE AGE IRELAND AND EUROPE | 22258 | BRONZE AGE IRELAND AND EUROPE |
| | 202000 | PUBLIC ARCHAEOLOGY | 33475 | PUBLIC ARCHAEOLOGY |