Patrick Naughton
Jt Sl1(T)
Senior Lecturer
Civil Engineering & Construction
Room: E2011
School of Engineering & Design
Institute of Technology Sligo
Ash Lane
Sligo

T: +353(0) 71 9305378
E: naughton.patrick@itsligo.ie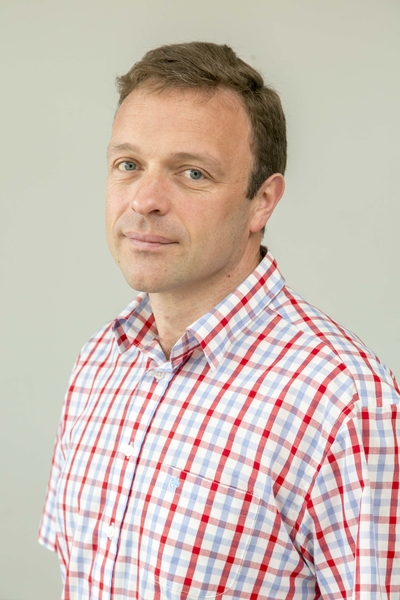 Dr Pat Naughton is a Senior Lecturer in the School of Engineering & Design at IT Sligo. He is a Chartered Engineer and a specialist in geotechnical and geosynthetic engineering with over 20 years research, development and consultancy experience.

Dr Naughton holds a first class honours BE (Civil) degree and a MEngSc degree both from NUI Galway and a PhD from University College Dublin. He is author of 75 peer reviewed conference and journal publications.

Before joining IT Sligo Dr Naughton worked with Terram Ltd in the UK and as a consultant to leading geosynthetic engineering companies worldwide. As a consultant, he has advised on the design of piled embankments, embankments over areas prone to subsidence and reinforced soil walls on major projects across four continents.
Dr Naughton's research interests focus on geotechnical and geosynthetics engineering, including: (a) the design of piled embankment, embankments over areas prone to subsidence, steep reinforced slopes and reinforced soil walls, (b) the properties of polyester based geosynthetics, including life time assessment (c) the characterisation and reuse of excavated soil waste in the construction of slopes (d) the behaviour of screw piles in sand.
 
Year
Publication
(2012)
'Similitude Conditions Modeling Geosynthetic-Reinforced Piled Embankments Using FEM and FDM Techniques'
Jennings, Keith and Naughton, Patrick J (2012) 'Similitude Conditions Modeling Geosynthetic-Reinforced Piled Embankments Using FEM and FDM Techniques'. ISRN Civil Engineering, 2012 [Details]
(2009)
'Study of the yielding of sand under generalized stress conditions using a versatile hollow cylinder torsional apparatus'
Oâ¿¿Kelly, Brendan C and Naughton, Patrick J (2009) 'Study of the yielding of sand under generalized stress conditions using a versatile hollow cylinder torsional apparatus'. Mechanics of Materials, 41 (3):187-198 [Details]
(2008)
'On the interface shear resistance of a novel geogrid with in-plane drainage capability'
O'Kelly B.C. & Naughton P.J. (2008) 'On the interface shear resistance of a novel geogrid with in-plane drainage capability'. Geotextiles And Geomembranes, 26 (4):357-362 [Details]
(2008)
'Local measurements of the polar deformation response in a hollow cylinder apparatus'
O'Kelly, Brendan C and Naughton, Patrick J (2008) 'Local measurements of the polar deformation response in a hollow cylinder apparatus'. Geomechanics and Geoengineering: An International Journal, 3 (4) [Details]
(2007)
'Stress non-uniformity in a hollow cylinder torsional sand specimen'
Naughton, Patrick J and O'Kelly, Brendan C (2007) 'Stress non-uniformity in a hollow cylinder torsional sand specimen'. Geomechanics and Geoengineering: An International Journal, 2 (2):117-122 [Details]
(2005)
'Development of a new hollow cylinder apparatus for stress path measurements over a wide strain range'
O'Kelly B.C. & Naughton P.J. (2005) 'Development of a new hollow cylinder apparatus for stress path measurements over a wide strain range'. Astm Geotechnical Testing Journal, 28 (4):345-354 [Details]
(2005)
'The engineering properties of wet pluviated hollow cylindrical specimens'
O'Kelly B.C. & Naughton P.J. (2005) 'The engineering properties of wet pluviated hollow cylindrical specimens'. Astm Geotechnical Testing Journal, 28 (6):570-576 [Details]
 
Year
Publication
(2013)
'External Stability of Reinforced Soil Walls'
Naughton, P.J., Scotto, M.,Rimoldi, P. & Vicari, M. (2013) 'External Stability of Reinforced Soil Walls' In: G. Gottardi, J. Han, H. Ling, F. Tatsuoka (eds). International Symposium on Design and Practice of Geosynthetic-Reinforced Soil Structures- Honouring Research Achievement of Prof. Dov Leshchinsky. USA: DEStech Publications, Inc. [Details]
(2005)
'The properties of polyethylene encased high tensity linear elements'
Naughton, P.J., Balderson, T. & Laronzo, R., (2005) 'The properties of polyethylene encased high tensity linear elements' In: Ling, H., Kaliakin, V.N. & Leshchinsky, D (eds). Geosynthetics and Geosynthetic-Engineerined Soil Structures, Contributions from the Symposium Honoring Prof. Robert M. Koerner. USA: Columbia University. [Details]
Year
Publication
(2020)
Proceedings of the Civil Engineering Research in Ireland Conference
Reid, B. & Naughton, P.J., (2020) Development of a Geotechnical Hazard Assessment Methodology for the Irish Road Network Proceedings of the Civil Engineering Research in Ireland Conference [Details]
(2020)
Proceedings of the Civil Engineering Research in Ireland Conference
El Refai, B & Naughton, P.J., (2020) Numerical modelling of a Geosynthetic Reinforced Soil – Integrated Bridge Systems (GRS-IBS) abutment subject to bridge loads Proceedings of the Civil Engineering Research in Ireland Conference [Details]
(2019)
Proceedings of the Irish Transport Research Network Conference
Harrington, P. & Naughton, P.J., (2019) Is the Pavement Surface Condition Index system delivering strategic outcomes at municipal level? Proceedings of the Irish Transport Research Network Conference [Details]
(2019)
Proceedings of the Irish Transport Research Network Conference
Hall, G. & Naughton, P.J., (2019) Pavement condition from falling weight deflectometer testing Proceedings of the Irish Transport Research Network Conference [Details]
(2019)
Proceedings of the Irish Transport Research Network Conference
McCafferty, K. & Naughton, P.J., (2019) Finite element analysis of the performance of geosynthetic reinforced soil integrated bridge systems (GRS-IBS) Proceedings of the Irish Transport Research Network Conference [Details]
(2018)
Proceeding of the 11th International Conference on Geosynthetics
Brusa, N., Naughton, P.J. & Scotto, M.M (2018) Sustainable and environmentally friendly reinforced soil slopes and walls constructed with draining geogrids: recent UK experience Proceeding of the 11th International Conference on Geosynthetics Seoul, Korea, , 16-SEP-18 - 21-SEP-18 [Details]
(2018)
Proceeding of the 11th International Conference on Geosynthetics
Naughton, P.J., Brusa, N. & Scotto, M.M. (2018) Design of geosynthetics over areas prone to subsidence Proceeding of the 11th International Conference on Geosynthetics Seoul, Korea, , 16-SEP-18 - 21-SEP-18 [Details]
(2018)
. Proceeding of the 11th International Conference on Geosynthetics
Naughton, P.J. & Zannoni, E. (2018) Stability of reinforced steep soil slopes to Eurocode 7 . Proceeding of the 11th International Conference on Geosynthetics Seoul, Korea, , 16-SEP-18 - 21-SEP-18 [Details]
(2018)
Proceedings of the Civil Engineering Research in Ireland Conference
Reape, D. & Naughton, P.J. (2018) An experimental investigation of helical piles subject to inclined pullout loads Proceedings of the Civil Engineering Research in Ireland Conference UCD, Dublin, Ireland, , 29-AUG-18 - 30-AUG-18 , pp.235-240 [Details]
(2018)
Proceedings of the Civil Engineering Research in Ireland Conference
Dooley, F. & Naughton, P.J. (2018) The long-term impact of utility reinstatements in urban flexible carriageways Proceedings of the Civil Engineering Research in Ireland Conference UCD, Dublin, Ireland, , 29-AUG-18 - 30-AUG-18 , pp.408-413 [Details]
(2016)
6th European Conference on Geosynthetics
Naughton, P.J., Ozçelik, H., Scotto, M, & Balderson (2016) The long term performance of polymeric reinforcement walls under static and seismic conditions 6th European Conference on Geosynthetics , pp.904-915 [Details]
(2015)
XVI european Conference on Soil Mechanics and Geotechnical Engineering
PJ Naughton, J.P. Giroud, P. Rimoldi, M. Scotto, D. Crowther (2015) The design of steep slopes using low-permeability fill and draining geogrids XVI european Conference on Soil Mechanics and Geotechnical Engineering Edinburgh, , pp.2055-2060 [Details]
(2015)
XVI European Conference on Soil Mechanics and Geotechnical Engineering
RM Grennan, PJ Naughton (2015) The strength of fibre reinforced clays XVI European Conference on Soil Mechanics and Geotechnical Engineering Edinburgh, , pp.3255-3260 [Details]
(2014)
XXVII Italian Conference on Geosynthetics
Giroud, J.P., Naughton, P.J. Rimoldi P. & M. Scotto (2014) Progettazione di muri e pendii rinforzati con terreni a bassa permeabilità utilizzando geogridlie drenanti (in Italian) XXVII Italian Conference on Geosynthetics Bologna, Italy, [Details]
(2014)
10th International Conference on Geosynthetics, Berlin
Giroud, JP and Naughton, PJ and Rimoldi, P and Scotto, M (2014) Design of reinforced slopes and walls with low-permeability fills using draining geogrids 10th International Conference on Geosynthetics, Berlin [Details]
(2014)
10th International Conference on Geosynthetics
Giroud, J.P., Naughton, P.J. Rimoldi P. & M. Scotto. (2014) Design of reinforced slopes and walls with low-permeability fills using draining geogrids 10th International Conference on Geosynthetics Berlin, Germany, , 21-SEP-14 - 25-SEP-14 [Details]
(2012)
Proceeding of the 5th European Conference on Geosynthetics
Naughton, P.J., Ferracuti, C., Scotto, M. & Mignani, M. (2012) Reinforcement of a submerged breakwater at Alexandria, Egypt Proceeding of the 5th European Conference on Geosynthetics Valencia, Spain, , 16-SEP-12 - 19-SEP-12 , pp.441-445 [Details]
(2012)
Proceeding of the 5th European Conference on Geosynthetics
Lally, D. & Naughton, P.J. (2012) An investigation of the arching mechanism in a geotechnical centrifuge Proceeding of the 5th European Conference on Geosynthetics Valencia, Spain, , 16-SEP-12 - 19-SEP-12 , pp.363-367 [Details]
(2012)
Proceedings of the Bridge & Concrete Research in Ireland Conference
Jennings, K. & Naughton, P.J. (2012) 2D Finite element stability analysis of a reinforced piled embankment Proceedings of the Bridge & Concrete Research in Ireland Conference Dublin, Ireland, , 06-SEP-12 - 07-SEP-12 , pp.115-120 [Details]
(2012)
Proceedings of the Bridge & Concrete Research in Ireland Conference
Lally, D. & Naughton, P.J. (2012) An investigation of the arching mechanism in a geotechnical centrifuge Proceedings of the Bridge & Concrete Research in Ireland Conference Dublin, Irealnd, , 06-SEP-12 - 07-SEP-12 , pp.127-132 [Details]
(2011)
Proceedings of Geofrontiers 2011
Clancy, J. & Naughton, P.J., (2011) An experimental study of pullout resistance of a multifunctional geosynthetic in fine grained fillings using an innovative pullout apparatus Proceedings of Geofrontiers 2011 Dallas, Texas, , 13-MAR-11 - 16-MAR-11 [Details]
(2011)
Proceedings of Geofrontiers 2011
Britton, E.J. & Naughton, P.J., (2011) The arching phenomena observed in experimental trap door model tests Proceedings of Geofrontiers 2011 Dallas, Texas, , 13-MAR-11 - 16-MAR-11 [Details]
(2011)
Proceedings of Geofrontiers 2011
Jennings, K. & Naughton, P.J. (2011) Lateral deformation under the side slopes of piled embankments Proceedings of Geofrontiers 2011 Dallas, Texas, , 13-MAR-11 - 16-MAR-11 [Details]
(2010)
Proceedings of the 9th International Conference on Geosynthetics
Jennings, K. & Naughton, P.J. (2010) Lateral deformations under side slopes of piled embankments Proceedings of the 9th International Conference on Geosynthetics Guarujá, Brazil, , 23-MAY-10 - 27-MAY-10 [Details]
(2010)
Proceedings of the 14th Danube Conference: From research to design in European Practice
Naughton, P.J., Scotto, M. & Prelovsky, B., (2010) Reusing excavated soil waste in reinforced slopes and embankments Proceedings of the 14th Danube Conference: From research to design in European Practice Bratislava, Slovak Republic, , 02-JUN-10 - 04-JUN-10 [Details]
(2010)
Proceedings of the 9th International Conference on Geosynthetics
Naughton, P.J., Kempton, G.T., Ozçelik, H., Laronzo, R., Scotto, M., (2010) Field and laboratory based studies on the hydrolysis of polyester fibres Proceedings of the 9th International Conference on Geosynthetics Guarujá, Brazil, , 23-MAY-10 - 27-MAY-10 [Details]
(2010)
Proceedings of the 9th International Conference on Geosynthetics
Clancy, J. & Naughton, P.J., (2010) Pullout resistance of a novel multifunctional geosynthetic in fine grained marginal fills Proceedings of the 9th International Conference on Geosynthetics Guarujá, Brazil, , pp.23/5/2010-27/5/2010 [Details]
(2010)
Proceedings of the 9th International Conference on Geosynthetics
Britton, E.J. & Naughton, P.J. (2010) An experimental study to determine the location of the critical height in piled embankments Proceedings of the 9th International Conference on Geosynthetics Guarujá, Brazil, , 23-MAY-10 - 27-MAY-10 [Details]
(2009)
Proceeding of the 1st Regional Conference on Geosynthetic, GeoAfrica 2009
Naughton, P.J., Kempton, G.T., Lozano, R., Scotto, M. & Meadows, J., (2009) Assessment of hydrolysis in historic polyester yarn recovered from 20 ¿ 30 year old reinforced soil structures Proceeding of the 1st Regional Conference on Geosynthetic, GeoAfrica 2009 Cape Town, South Africa, , 02-SEP-09 - 05-SEP-09 [Details]
(2009)
Proceeding of the 1st Regional Conference on Geosynthetic, GeoAfrica 2009
Britton, E.J. & Naughton, P.J., (2009) An experimental study to determine the location of the critical height in piled embankments Proceeding of the 1st Regional Conference on Geosynthetic, GeoAfrica 2009 Cape Town, South Africa, , 02-SEP-09 - 05-SEP-09 [Details]
(2008)
Proceeding of the 4th European Conference on Geosynthetics
Clancy, J. & Naughton, P.J. (2008) Design of steep slopes using fine grained fills and novel multifunctional geocomposites Proceeding of the 4th European Conference on Geosynthetics Edinburgh, UK, , 07-SEP-08 - 10-SEP-08 [Details]
(2008)
Proceeding of the 19th European Young Geotechnical Engineers Conference
Britton, E.J., & Naughton, P.J., (2008) An Experimental Investigation of Arching in Piled Embankments Proceeding of the 19th European Young Geotechnical Engineers Conference Győr, Hungary, , 03-SEP-08 - 06-SEP-08 [Details]
(2008)
Proceedings of the 4th Asian Regional Conference on Geosynthetics
Gharpure, A.D., Korulla, M., Jayakrishnan, P.V., Scotto, M. & Naughton, P.J., (2008) Design methods for piles supported basal reinforced embankments over soft clay Proceedings of the 4th Asian Regional Conference on Geosynthetics Shanghai, China, , 17-JUN-08 - 20-JUN-08 [Details]
(2008)
Proceeding of the 4th European Conference on Geosynthetics
Britton, E.J., & Naughton, P.J., (2008) An experimental investigation of arching in piled embankments Proceeding of the 4th European Conference on Geosynthetics Edinburgh, UK, , 07-SEP-08 - 10-SEP-08 [Details]
(2008)
Proceeding of the 4th International Symposium on Deformation Characteristics of Geomaterials (IS-Atlanta 2008)
O'Kelly, B.C. & Naughton, P.J., (2008) Use of proximity transducers for local radial strain measurements in a hollow cylinder apparatus Proceeding of the 4th International Symposium on Deformation Characteristics of Geomaterials (IS-Atlanta 2008) Atlanta, USA, , 22-SEP-08 - 24-SEP-08 [Details]
(2008)
Proceeding of the 4th European Conference on Geosynthetics
Naughton, P.J., Scotto, M., & Kempton, G.T., (2008) Piled embankments: Past experience and future perspectives Proceeding of the 4th European Conference on Geosynthetics Edinburgh, UK, , 07-SEP-08 - 10-SEP-08 [Details]
(2008)
Proceedings of the 1st International Conference on Transportation Geotechnics
Clancy, J. & Naughton, P.J., (2008) Design of reinforced soil structures using fine grained fill types Proceedings of the 1st International Conference on Transportation Geotechnics Nottingham, UK, , 25-AUG-08 - 27-AUG-08 [Details]
(2008)
Proceeding of GeoCongress 2008
O'Kelly B.C. & Naughton P.J., (2008) Enhancement in the interface shear resistance achieved by a novel geogrid with in-plane drainage Proceeding of GeoCongress 2008 New Orleans, USA, , 09-MAR-08 - 12-MAR-08 [Details]
(2008)
Proceeding of the 4th European Conference on Geosynthetics
Kempton, G.T., Ozçelik, H., Naughton, P.J., Mum, N. & Dundar, F., (2008) The long term performance of polymeric reinforced walls under static and seismic conditions Proceeding of the 4th European Conference on Geosynthetics Edinburgh, UK, , 07-SEP-08 - 10-SEP-08 [Details]
(2008)
Proceeding of the 36th Brno Conference, Foundations Brno: Current trends in design and realisation of geotechnical structures
Prelovsky, B. Naughton, P.J., Scotto, M. & Kempton, G.T., (2008) The development of piled embankment techniques over 25 years Proceeding of the 36th Brno Conference, Foundations Brno: Current trends in design and realisation of geotechnical structures Brno, Czech Republic, , 10-NOV-08 - 11-NOV-08 [Details]
(2008)
Proceeding of the 4th International Symposium on Deformation Characteristics of Geomaterials (IS-Atlanta 2008)
O'Kelly, B.C. & Naughton, P.J., (2008) Measuring shear strain in a hollow cylinder apparatus using electrolevel-inclinometer gages Proceeding of the 4th International Symposium on Deformation Characteristics of Geomaterials (IS-Atlanta 2008) Atlanta, USA, , 22-SEP-08 - 24-SEP-08 [Details]
(2008)
Proceedings of the 1st International Conference on Transportation Geotechnics
Britton, E.J., & Naughton, P.J., (2008) The arching mechanism in piled embankments under road infrastructure Proceedings of the 1st International Conference on Transportation Geotechnics Nottingham, UK, , 25-AUG-08 - 27-AUG-08 [Details]
(2007)
Proceeding of Geo-Denver 2007, New peaks in geotechnics, ASCE GSP 172, Soil Improvement
Naughton, P.J., (2007) The significance of critical height in the design of piled embankments Proceeding of Geo-Denver 2007, New peaks in geotechnics, ASCE GSP 172, Soil Improvement Denver Colorado, USA, , 18-FEB-07 - 21-FEB-07 [Details]
(2007)
Proceedings of the conference on soft ground engineering, organised by the Geotechnical Society of Ireland
Quigley, P. & Naughton, P.J., (2007) Design of Piled Embankments Proceedings of the conference on soft ground engineering, organised by the Geotechnical Society of Ireland Portlaoise, Ireland, , 15-FEB-07 - 16-FEB-07 [Details]
(2006)
Proceedings of the 8th International Conference on Geosynthetics
Naughton P.J. & Kempton, G.T., (2006) Life-time assessment of polyester based geosynthetics Proceedings of the 8th International Conference on Geosynthetics Yokohama, Japan, , 18-SEP-06 - 22-SEP-06 , pp.1577-1580 [Details]
(2006)
Proceedings of the 8th International Conference on Geosynthetics
Marchi G.F., Schiavo M., Kempton G.T., Naughton P.J. & Scotto M., (2006) The use of geogrids in the construction of piled embankments on the new lines of the Italian high speed train Proceedings of the 8th International Conference on Geosynthetics Yokohama, Japan, , 18-SEP-06 - 22-SEP-06 , pp.9009-912 [Details]
(2005)
Site Characterization and Modeling
Naughton, PJ and Oâ¿¿Kelly, BC (2005) The yield behavior of Leighton Buzzard sand in a hollow cylinder apparatus Site Characterization and Modeling , pp.1-10 [Details]
(2005)
Proceedings of the 16th International Conference on Soil Mechanics and Geotechnical Engineering
Naughton P.J. & O'Kelly B.C., (2005) Yielding of sand under generalised stress conditions Proceedings of the 16th International Conference on Soil Mechanics and Geotechnical Engineering Oasaka, Japan, , 12-SEP-05 - 16-SEP-05 , pp.555-558 [Details]
(2005)
Geotechnical Special Publication No. 138, Site Characterization and Modeling, Proceeding of the Geo-Frontiers 2005 Congress
Naughton, P.J. & O¿Kelly, B.C., (2005) The yield behavior of Leighton Buzzard sand in a hollow cylinder apparatus Geotechnical Special Publication No. 138, Site Characterization and Modeling, Proceeding of the Geo-Frontiers 2005 Congress Austin, Texas, USA, , 24-JAN-05 - 26-JAN-05 [Details]
(2005)
Proceedings of the ASCE/ASME/SES Conference on Mechanics and Materials
Naughton P.J. & O'Kelly B.C., (2005) Stress non-uniformity in hollow cylindrical test specimens Proceedings of the ASCE/ASME/SES Conference on Mechanics and Materials Baton Rouge, Louisiana, USA, , 01-JUN-05 - 03-JUN-05 [Details]
(2005)
Geotechnical Special Publication No. 131, Contemporary Issues In Foundation Engineering, Proceeding of the Geo-Frontiers 2005 Congress
Naughton P.J. & Kempton, G.T., (2005) Comparison of Analytical and Numerical Analysis Design Methods for Piled Embankments Geotechnical Special Publication No. 131, Contemporary Issues In Foundation Engineering, Proceeding of the Geo-Frontiers 2005 Congress Austin, Texas, USA, , 24-JAN-05 - 26-JAN-05 [Details]
(2005)
Proceedings of the ASCE/ASME/SES Conference on Mechanics and Materials
O'Kelly B.C. & Naughton P.J., (2005) Closed loop control of a hollow cylinder apparatus Proceedings of the ASCE/ASME/SES Conference on Mechanics and Materials Baton Rouge, Louisiana, USA, , 01-JUN-05 - 03-JUN-05 [Details]
(2004)
Proceedings of Geosynthetics India 2004
Kempton, G & Naughton, P., (2004) Design and construction of reinforced soil walls to BS 8006 and some recent advances Proceedings of Geosynthetics India 2004 Indian Institute of Technology, Delhi, India, , 27-OCT-04 - 30-OCT-04 [Details]
(2004)
Proceedings of Geosynthetics India 2004
Kempton, G & Naughton, P., (2004) Simple case studies of the use of geocell systems in geotechnical applications Proceedings of Geosynthetics India 2004 Indian Institute of Technology, Delhi, India, , 27-OCT-04 - 30-OCT-04 [Details]
(2004)
Proceedings of the 3rd European Conference on Geosynthetics
Naughton, P.J. & Kempton, G.T., (2004) The value of strain energy as a characterisation parameter Proceedings of the 3rd European Conference on Geosynthetics Munich, Germany, , 01-MAR-04 - 03-MAR-04 , pp.597-602 [Details]
(2004)
Proceedings of the International Conference on Geosynthetics and Geoenvironmental Engineering
Naughton, P.J. & Kempton, G.T., (2004) Construction of steep slopes using cohesive fill and an innovative geogrid Proceedings of the International Conference on Geosynthetics and Geoenvironmental Engineering Mumbai, India, , 08-DEC-04 - 10-DEC-04 , pp.407-410 [Details]
(2004)
Proceedings of the International Conference on Geosynthetics and Geoenvironmental Engineering
Kempton, G.T., Naughton, P.J. & Roy, V. (2004) ParaWeb walls in India: The 16 year performance and recent technological developments Proceedings of the International Conference on Geosynthetics and Geoenvironmental Engineering Mumbai, India, , 08-DEC-04 - 10-DEC-04 , pp.297-302 [Details]
(2004)
Proceedings of Geosynthetics India 2004
Kempton, G & Naughton, P., (2004) Design and construction of embankments over areas prone to subsidence Proceedings of Geosynthetics India 2004 Indian Institute of Technology, Delhi, India, , 27-OCT-04 - 30-OCT-04 [Details]
(2004)
Proceedings of the International Conference on Geosynthetics and Geoenvironmental Engineering
Naughton, P.J. & Kempton, G.T., (2004) Creep strain in a residual strength procedure Proceedings of the International Conference on Geosynthetics and Geoenvironmental Engineering Mumbai, India, , 08-DEC-04 - 10-DEC-04 , pp.119-122 [Details]
(2004)
Proceedings of the A.W. Skempton Memorial Conference
Naughton, P.J. & O¿Kelly, B.C., (2004) The induced anisotropy of Leighton Buzzard sand Proceedings of the A.W. Skempton Memorial Conference London, UK, , 29-MAR-04 - 31-MAR-04 , pp.556-567 [Details]
(2003)
Proceedings of the Third International Symposium on Deformation Characteristics of Geomaterials, ISLyon
Naughton, P.J. & O¿Kelly, B.C., (2003) The anisotropy of Leighton Buzzard sand under general stress conditions Proceedings of the Third International Symposium on Deformation Characteristics of Geomaterials, ISLyon Lyon, France, , 22-SEP-03 - 24-SEP-03 , pp.285-292 [Details]
(2003)
Proceedings of the International Workshop on the Geotechnics of Soft Soils; Theory and Practice
Rodgers, M. & Naughton, P.J., (2003) Insitu and laboratory testing of a soft soil deposit on the west coast of Ireland Proceedings of the International Workshop on the Geotechnics of Soft Soils; Theory and Practice Noordwkijkerhout, The Netherlands, , 17-SEP-03 - 19-SEP-03 , pp.525-530 [Details]
(2003)
Proceedings of the 56th Annual Canadian Geotechnical Conference
O¿Kelly, B.C. & Naughton, P.J., (2003) Development of the University College Dublin hollow cylinder apparatus Proceedings of the 56th Annual Canadian Geotechnical Conference Winnipeg, Canada, , 29-SEP-03 - 01-OCT-03 [Details]
(2003)
Proceedings of the 56th Annual Canadian Geotechnical Conference
Russel, D., Naughton, P.J. & Kempton, G.T., (2003) A new design procedure for piled embankments Proceedings of the 56th Annual Canadian Geotechnical Conference Winnipeg, Canada, , 29-SEP-03 - 01-OCT-03 [Details]
(2002)
Proceedings of the 7th International Conference on Geosynthetics
Naughton, P.J. & Kempton, G.T., (2002) In service performance of geotextile separators Proceedings of the 7th International Conference on Geosynthetics Nice, France, , pp.1505-1508 [Details]
(2002)
Proceedings of the 7th International Conference on Geosynthetics
Kempton, G.T., Naughton, P.J. & Jones, C.J.F.P., (2002) Assessment of design life for polyester based geosynthetics Proceedings of the 7th International Conference on Geosynthetics Nice, France, , pp.1531-1534 [Details]
(2001)
Proceeding of the International Symposium on Soil Reinforcement, ISKyusku
Naughton, P.J., Jewell, R.A. & Kempton, G.T., (2001) The design of steep slopes constructed from cohesive fill and a geogrid Proceeding of the International Symposium on Soil Reinforcement, ISKyusku Kyusku, Japan, , pp.259-263 [Details]
(2001)
Proceeding of the 14th Young Geotechnical Engineers Conference
Naughton, P.J. & O¿Kelly, B.C, (2001) An Overview of the University College Dublin Hollow Cylinder Apparatus Proceeding of the 14th Young Geotechnical Engineers Conference Sofia, Bulgaria, , 15-SEP-01 - 19-SEP-01 , pp.101-110 [Details]
(2000)
EUROGEO 2000: PROCEEDINGS OF THE 2ND EUROPEAN GEOSYNTHETICS CONFERENCE. VOLUME 2: ENVIRONMENTAL AND HYDRAULIC APPLICATIONS WORKSHOPS
Kempton, GT and Jones, CJFP and Jewell, RA and Naughton, PJ (2000) Construction of slopes using cohesive fills and a new innovative geosynthetic material EUROGEO 2000: PROCEEDINGS OF THE 2ND EUROPEAN GEOSYNTHETICS CONFERENCE. VOLUME 2: ENVIRONMENTAL AND HYDRAULIC APPLICATIONS WORKSHOPS [Details]
(2000)
Proceedings of the 2nd European Conference on Geosynthetics
Kempton, G.T., Jones, C.J.F.P., Jewell, R.A., Naughton, P.J., (2000) Construction of slopes using cohesive fills and a new innovative geosynthetic material Proceedings of the 2nd European Conference on Geosynthetics Bologna, Italy, , pp.825-828 [Details]
Year
Publication
(2010)
Urban Geotechnical Practices,
Naughton, P.J. (2010) Designing with High Strength Geosynthetics. [Oral Presentation], Urban Geotechnical Practices, Sydney, Australia , 27-JUL-10 - 28-JUL-10. [Details]
(2010)
Engineers Australia, Sydney Chapter, Evening Lecture,
Naughton, P.J. (2010) Designing with High Strength Geosynthetics. [Invited Oral Presentation], Engineers Australia, Sydney Chapter, Evening Lecture, Sydney, Australia , 29-JUL-10. [Details]
(2010)
Australian Geomechanics Society Evening Lecture,
Naughton, P.J. (2010) Designing with High Strength Geosynthetics. [Invited Oral Presentation], Australian Geomechanics Society Evening Lecture, Brisbane, Australia , 22-JUL-10. [Details]
Year
Publication
(2002)
The investigation of Leighton Buzzard sand in a new hollow cylinder apparatus, PhD.
Naughton, Patrick (2002) The investigation of Leighton Buzzard sand in a new hollow cylinder apparatus, PhD. Thesis [Details]
(1996)
An examination of the use of timber piles for the construction of embankment of soft compressible soils, MEngSc.
Naughton, Patrick (1996) An examination of the use of timber piles for the construction of embankment of soft compressible soils, MEngSc. Thesis [Details]
Professional Associations
| | Association | Function | From / To |
| --- | --- | --- | --- |
| | Engineers Ireland | Chartered Engineer, CEng MIEI | / |
| | International Geosynthetics Society | member | 01-JAN-96 / 25-MAR-18 |
|   | Committee | Function | From / To |
| --- | --- | --- | --- |
| | International Society Soil Mechanics & Geotechnical Engineering Technical Committee 218 on Reinforced Fill Structures | Member | 2018 / 2022 |
| | Programme Committee in Civil Engineering (Level 7 & 8) | Chairperson | 2004 / 2011 |
| | European Committee for Standardization (CEN) Technical Committee 189 on Geosyntheics | Member | 2003 / 2018 |
| | International Organization for Standardization (ISO) TC 221 on Geosynthetics | Member | 2003 / 2018 |
| | American Society for Testing and Materials (ASTM), Technical Committee D35 on Geosynthetics. | Voting member | 1996 / 2018 |
| | Employer | Position | From / To |
| --- | --- | --- | --- |
| | Institute of Technology Sligo | Senior Lecturer I (Teaching) | 01-JAN-09 / |
| | Institute of Technology Sligo | Lecturer | 01-SEP-03 / 31-DEC-08 |
| | National University of Ireland, Galway | Lecturer (fixed term) | 01-SEP-02 / 31-AUG-03 |
| | Consultant to Terram Ltd, UK | Consultant | 01-AUG-98 / 31-DEC-03 |
| | Officine Maccaferri, worldwide | Consultant | 01-JAN-03 / 25-MAR-18 |
| | Terram Ltd, UK | Applications Development Engineer | 01-AUG-96 / 01-AUG-98 |
| | Year | Institution | Qualification | Subject |
| --- | --- | --- | --- | --- |
| | 2002 | University College Dublin | PhD | Soil Mechanics |
| | 1994 | National University of Ireland Galway | Bachelor of Engineering | Civil Engineering |
| | 1996 | National University of Ireland Galway | MEngSc | Geotechnical Engineering |
| | Journal | Role |
| --- | --- | --- |
| | Astm Geotechnical Testing Journal | Reviewer |
| | Institution Of Civil Engineers Journal Of Geotechnical | Reviewer |
| | Quarterly Journal Of Engineering Geology And Hydrogeology | Reviewer |
| | Journal Of Geotechnical And Geological Engineering | Reviewer |
| | Geotextiles And Geomembranes | Reviewer |
| | Geotechnique | Reviewer |
| | Description |
| --- | --- |
| | External Examiner, PhD, Loughborough University, March 2018. |
| | External Examiner, MSc, School of Engineering, Limerick Institute of Technology. October 2015. |
| | Internal Examiner, PhD, School of Engineering & Design, IT Sligo, September 2015. |
| | External Examiner, MSc, School of Engineering, Trinity College, Dublin. February 2012. |
| | External Examiner, BEng in Civil Engineering, Letterkenny IT, 2010 – 2014 |
| | Member of Scientific Committee for the 6th European Conference on Geosynthetics, Istanbul, Turkey, 25-28 September 2016. |
| | Member of the Scientific Committee for the 2nd African Regional Conference on Geosynthetics, 18-20 November 2013 in Accra, Ghana |
| | Delivered a one-day training programme on Designing with Geosynthetics to the Geosynthetics Interest Group of South Africa, July 2015, in Johannesburg, South Africa. |
| | External Examiner, MSc, School of Engineering, Trinity College, Dublin. February 2007. |
| | Internal Examiner, MEng, School of Engineering, IT Sligo, July 2006 |
| | Delivered evening CPD lectures on Design of Piled Embankments in Johannesburg, Durban & Cape Town, South Africa, July 2015 |
| | Delivered the 6th Maccaferri Lecture - The Design and implementation of High-strength Polymeric Soil Reinforcements in Johannesburg, Cape Town and Durban. Awarded 0.6 Credits by the South African Institution Of Civil Engineering, CPD Number: SAICEcon08/00294/09, March 2008 |
|   | Graduation | Student Name | University | Degree | Thesis |
| --- | --- | --- | --- | --- | --- |
| | 2012 | Dr Emma Britton | Institute of Technology, Sligo | PhD | An investigation of the arching mechanism in piled embankments. |
| | 2013 | Dr Keith Jennings | Institute of Technology, Sligo | PhD | An investigation of the lateral loads on pile groups under embankments. |
| | 2012 | Dr Jude Clancy | Institute of Technology, Sligo | PhD | An examination of the use of marginal fills in the construction of reinforced steep slopes and embankments. |
| | 2012 | Mr David Lally | Institute of Technology, Sligo | MEng | An investigation of the arching mechanism in piled embankments using a geotechnical centrifuge |
| | 2014 | Mr Ray Grennan | Institute of Technology, Sligo | MEng | The influence of fibre content on the bearing capacity of clay. |
| | 2017 | Mr Darren Reape | Institute of Technology, Sligo | MEng | An experimental investigation of helical piles subject to inclined pullout |
|   | Term (ID)) | Title | Link | Subject |
| --- | --- | --- | --- | --- |
| | 1 | Geotechnical Engineering I | ENG09029 | Site investigation, earthworks, asset management |
| | 2 | Geotechnical Engineering II | ENG09030 | Geotechnical design: retaining structures, piles, embankments |
| | 202200 | Soil - Structure Interaction | 40374 | Soil - Structure Interaction |
| | 1 & 2 | MEng research thesis, Mode 2 | RSCH09032 | Research projects |
| | 202200 | Geotechnical Engineering 301H | 32264 | Geotechnical Engineering 301H |
| | 202200 | Geotechnical Engineering 402H | 32252 | Geotechnical Engineering 402H |
|   | Name | Organisation / Institute | Country |
| --- | --- | --- | --- |
| | Dr Brendan O'Kelly | Trinity College Dublin | IRELAND |