MR Shaun Mc Brearty
Assistant Lecturer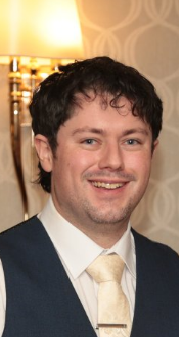 Shaun Mc Brearty is an experienced I.T. Professional who has worked in a variety of roles in the SME sector. Shaun has a B.Sc. (Hons) in Applied Computing (2012), an M.Sc. in Systems and Software Security (2015) and has recently begun a PhD in the area of Searchable Encryption on a part-time basis (due to be completed in 2022). Shaun is also an experienced educator having previously worked in the private training and further education sectors between 2014 and 2016 before joining the staff of IT Sligo in January 2017. Shaun's areas of expertise include: Software Development (Java, C#.Net, PHP, SQL), Software Testing (Manual and Automated Testing), Cyber Security (Software Security/Hardware Security/Cryptography), Network Administration (Cisco), Public/Private Cloud Administration (Azure, Citrix, VMware) and Server Administration (Windows, Linux).
Applied Cryptography.
Networking Protocol Security.
Geo-Blocking (Detecting VPN And Proxy Server Usage).
Ethical Hacking/Penetration Testing.
Software Testing/QA.
Secure Software Development.
Digital Forensics.
The 'Human Factor' In I.T. Security/Social Engineering.
Database Server Performance.
Software Framework/Programming Language Performance.
Legal Compliance of Applications.
Legal, Ethical & Social Issues In Computing.
Virtualisation (Performance, Security).
Grid Computing.
Distributed Computing.
Parallel Computing.
Malware Analysis (Reverse Engineering).
Malware Obfuscation/Detection Avoidance.
Device Driver Security.
Image Processing.
 
Year
Publication
(2016)
'The Performance Cost Of Preserving Data/Query Privacy Using Searchable Symmetric Encryption'
Shaun Mc Brearty, William Farrelly, Kevin Curran (2016) 'The Performance Cost Of Preserving Data/Query Privacy Using Searchable Symmetric Encryption'. Security And Communication Networks, [Details]
(2012)
'Legal, Ethical & Social Issues In The Case Of An Intrusive Remote Monitoring Software'
Shaun Mc Brearty, Nigel McKelvey, Kevin Curran (2012) 'Legal, Ethical & Social Issues In The Case Of An Intrusive Remote Monitoring Software'. International Journal Of Information Security, [Details]
Year
Publication
(2016)
Irish Signals & Systems Conference
Shaun Mc Brearty, William Farrelly, Kevin Curran (2016) Preserving Data Privacy With Searchable Symmetric Encryption Irish Signals & Systems Conference [Details]
| | Year | Title | Awarding Body |
| --- | --- | --- | --- |
| | 2012 | Kay McNulty Prize For Best Student In Computing | LYIT |
| | Employer | Position | From / To |
| --- | --- | --- | --- |
| | Flair-Interiors | Software Developer/Project Manager | 01-JUN-12 / 31-MAR-13 |
| | Woodland NI | Junior Systems Integrator/FUSION Project Manager | 01-APR-13 / 31-DEC-13 |
| | National Learning Network | Software Development/Testing Course Tutor | 01-MAR-14 / 13-JAN-17 |
| | Letterkenny Institute of Technology | Assistant Lecturer (Part-Time) | 01-JAN-16 / 01-FEB-17 |
| | Year | Institution | Qualification | Subject |
| --- | --- | --- | --- | --- |
| | 2012 | Letterkenny Institute of Technology | B.Sc. (Hons) | Applied Computing |
| | 2015 | Letterkenny Institute of Technology | Master of Science | Systems And Software Security |
| | Language | Reading | Writing | Speaking |
| --- | --- | --- | --- | --- |
| | English | Fluent | Fluent | Fluent |
| | Description |
| --- | --- |
| | Currently pursuing a Doctor of Philosophy (PhD) in Computer Science at the Magee Campus of Ulster University on a part-time basis. |